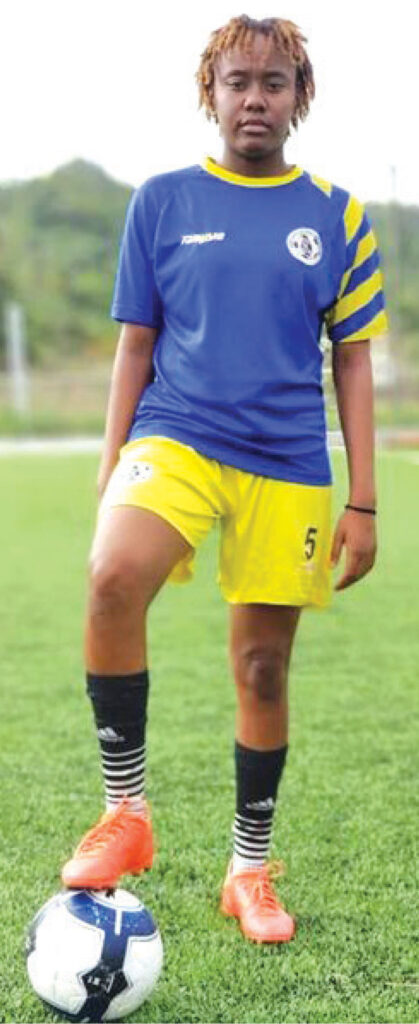 Young Saint Lucian footballer Thai Fowell is the latest recipient of the Ambassador Donatus St. Aimee Scholarship.
The scholarship fund was initiated by the Saint Lucia House Foundation in New York in 2016, to memorialize the legacy of the former UN Ambassador of Saint Lucia who quickly became a well-liked fixture in the community in the Tri-State area.
Dr. St Aimee had a keen interest in education; therefore the team decided to honour his legacy and launched the award to be presented to a Saint Lucian College student each year at the Independence Ball.
Thai hails from Monchy, Gros Islet and has played for respective Saint Lucia National Football teams at the Under-15, Under-17 and Under-20 levels. She has been accepted to pursue her Master of Science in Computer Information Systems at Talladega College in Talladega, AL.
Thai completed her Bachelor of Arts in Business Administration in Finance and Banking (Magna Cum Laude) while also being a student athlete.
During her time at undergraduate school as a full-time student and soccer athlete she served as a tutor in the Student Success Center and worked in the food service industry. Thai has served as an exemplary mentor to younger students both at Talladega College and during her High School years in Saint Lucia when she was a student at St. Joseph's Convent and actively took part in mentorship programs.
Thai's coaches have lauded her commitment to her academic pursuits even while being a student athlete. She is credited with being very dependable, and a team player who expects excellence from her teammates.
Ms. Fowell's goal is to eventually pursue certification in IT, cyber security with special interest in Ethical Hacking. Ultimately, she plans to use her skills to bring positive change to business and nonprofit organisations.
Thai's internship level has propelled her to a full-time position in the Finance field, in the City of Talladega, while being a student.
This award is of special significance to the St. Lucia House Foundation team, because Thai was a scholarship beneficiary of a Free Kick Foundation Scholarship.
The St. Lucia House Foundation honoured the Free Kick Foundation in 2019 as the Sports Award Winner because of the significant work that they do to create opportunities for Saint Lucia's youth through sports scholarships at US Colleges.
The Leadership of the Saint Lucia House Foundation wishes Thai continued success in her endeavours.
The SLFA Inc. congratulates Thai Fowell on her outstanding achievements as we celebrate International Women Day. Let Them Play!