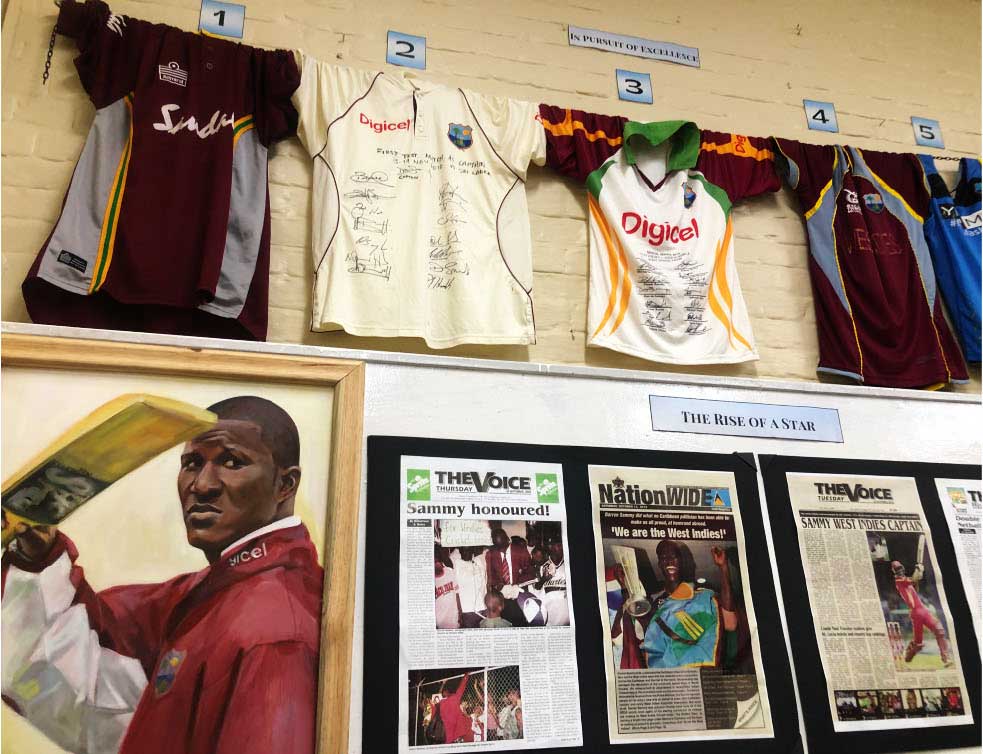 The Saint Lucia National Archives Authority (SLNAA) hosted an exhibition this week to honour Daren Sammy and Levern Spencer, two of Saint Lucia's most eminent athletes.
The event (part of the Nobel Laureate Festival), captured some of their most noteworthy moments and also focused on their rise to fame (the latter, seemingly inevitable, National Archivist Margot Thomas suggested).
The exhibition which was held under the theme "Celebrating Excellence: Fulfilling the Destiny – Winning International Acclaim", will run until March 31st, and according to Thomas, it will serve as an inspiration for future generations.
"I am overwhelmed with joy to have this exhibition. This is a seed that has been waiting to sprout for some time. We set up our sports archives (in 2014) and we have been trying to preserve memorabilia and documents about our nation's sportsmen and women. Of course, featuring Levern and Daren our premiere sports personalities was inevitable. It was only a matter of when," Thomas said, adding that "the ascendancy of Daren and Levern has always intrigued me."
"When they embarked on their sports adventure, some cheered and others scoffed but they were undeterred. Buoyed by faith, spurred on by the prayers and assistance of their loved ones, they trudged on. We are thankful that these two young people stayed the course. Daren for his part, bringing back international cricket to Pakistan, was awarded the highest civilian medal of Pakistan on the 23rd of March 2020; he was also awarded honorary Pakistani citizenship by the President of Pakistan Dr. Arif Alvi," Thomas said.
Sammy and Spencer have undoubtedly left an indelible mark on their country, the National Archivist noted. Through the exhibition, the SLNAA hopes to cement the legacy of the athletes in the minds of Saint Lucians.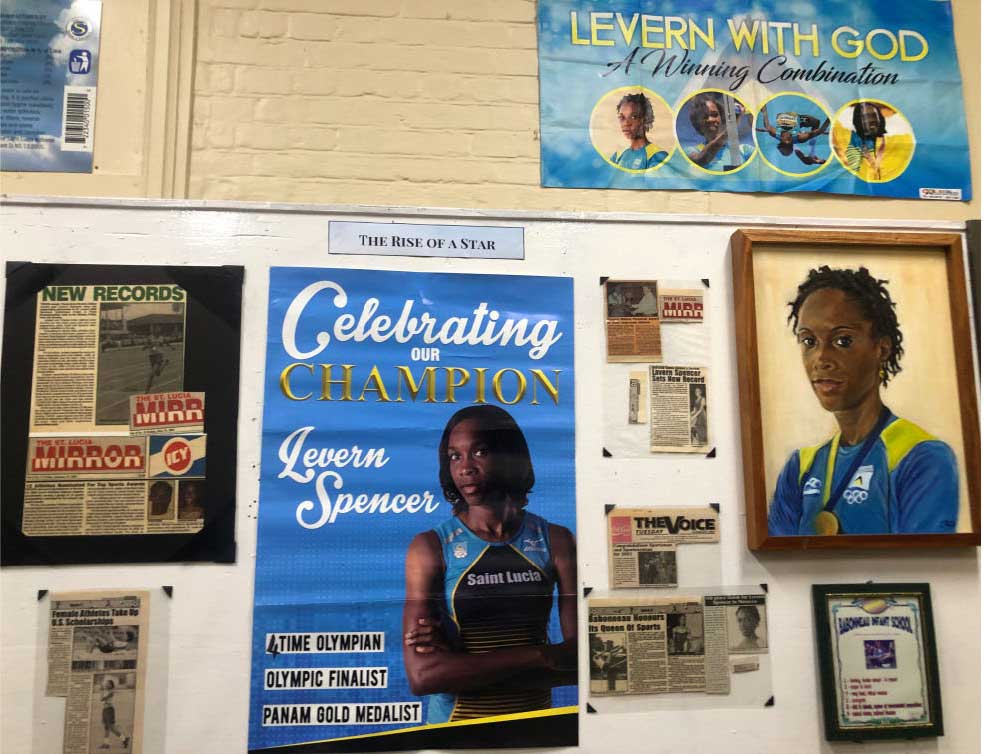 She urged the public to visit the SLNAA to get a firsthand view of the exhibition, and more importantly, to savour the accomplishments of the decorated athletes.
"I can assure you that after you've perused the exhibition some of you (will) be inspired to search your minds and your spirit to discover your hidden talents. Levern and Daren you fulfilled your destiny and you won international acclaim, we thank and salute you," she said adding that "they brought glory not only to themselves, but to their families, schools, communities, church congregations and their country."
"Whatever glory they achieved on the international stage is our glory. We can bask in their sunshine just as we do for Sir Derek and Sir Arthur," Thomas said.
Sports journalist Terry Finistere praised the two athletes for their extraordinary achievements describing the former West Indies Captain and four-time Olympian as "the two greatest Saint Lucian athletes ever."
Noting that Spencer had given more than 20 years of national representation, and that Sammy was the first Saint Lucian ever to play for the West Indies, the two, he said, have certainly made Saint Lucia proud.
"Levern Spencer attended her first CARIFTA Games in Martinique (in) 1999 and was incredibly disappointed not to be anywhere amongst the medals. From that humble start beset by injury—going in without all of her necessary resources (and) the kind of support that she probably would have wanted, went on to scale the highest heights ever by any Caribbean woman. The English-speaking Caribbean has never seen a high jumper who has been able to achieve what Levern has done," Finisterre said.
According to him, Spencer is an inspiration to Saint Lucians and "she has also served as an inspiration for Daren Sammy.  This gentleman adores Levern (and) everything that she stands for and he too is somebody on whose shoulders the future generations of cricketers can stand."
"Over the years we have seen Daren going from strength to strength. (The) first Saint Lucian man ever to play for the West Indies and on debut taking seven wickets. The best debut performance ever by a bowler for the West Indies. Just tremendous work by Daren Sammy over the years. He was the Man of the Match in the Stanford T20 when the West Indies beat England famously over in Antigua and Barbuda in that multimillion-dollar matchup between two of the top teams in world cricket," Finisterre noted.
Further, he indicated, "he would go on to lead the West Indies… named captain in 2010. He would then lead the West Indies to the World T20 title in 2012. From there he would repeat that feat in 2016. The first captain in world cricket to win back to back world T20 titles and the most successful captain of the West Indies in more than 30 years."