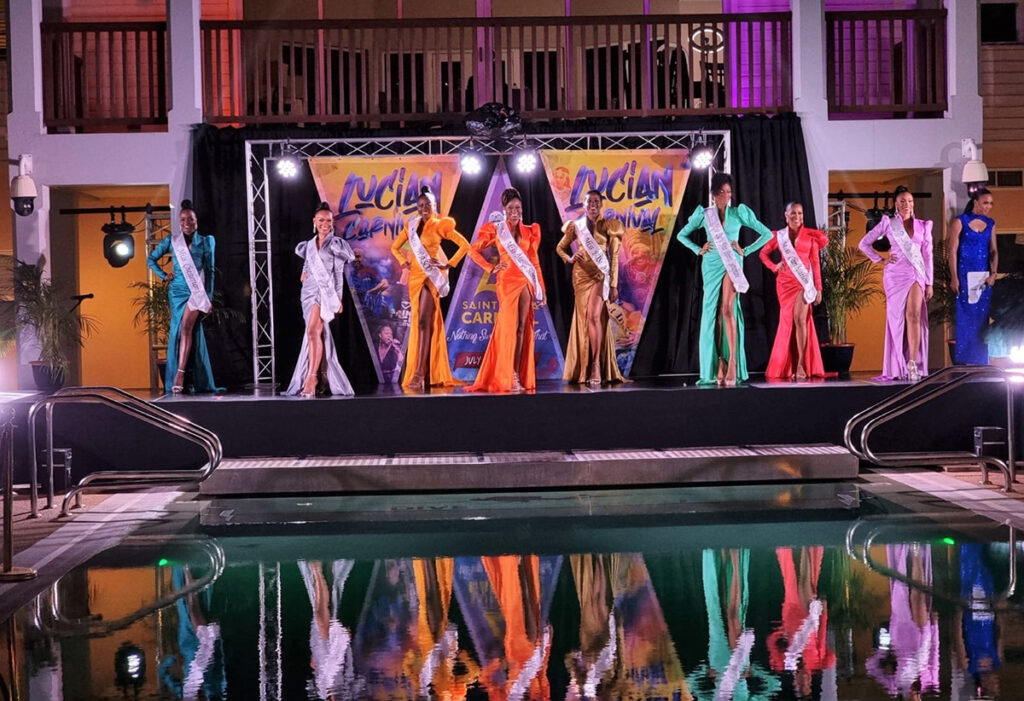 The 2022 National Carnival Queen contestants were officially presented to their sponsors yesterday evening, at the annual Sashing Ceremony held at the Harbour Club.
The Sashing Ceremony was the first public appearance of the contestants after being announced in a virtual ceremony on May 12. The contestants were assigned to sponsors as follows:
Shaniah Richard – Miss Chestertons
Kurnisha Augustus – Miss Windjammer Landing
Christa St. Ange – Miss Duty Free Pointe Seraphine
Nyambi Jn. Baptiste – Miss WASCO
Kejean Smith – Miss Massy Stores
Xenia Douglas – Miss BOSL Wise
Merel Popo – Miss Bay Garden's Resorts/Dermalogics
Nadege Mc. Lauren – Miss Caribcation
Chairperson of the Carnival Planning & Management Committee, Tamara Gibson, said "These eight young women will set a new standard for what it means to be a Carnival Queen." Addressing the sponsors, Gibson stated, "We depend heavily on your financial and motivational support to carry our contestants through the season. I assure you that you will not be disappointed. This cohort of prospective queens are all well-educated, talented, eloquent, entrepreneurial, and heavily involved in community work and activism, all of which are qualities which make them perfect brand ambassadors."
Among some of the highlights of the evening, was a special rendition by Michael Robinson and an appearance by the reigning Carnival Queen, Wenia Verneiul, Miss Laborie Cooperative Credit Union.
The National Carnival Queen Pageant will be held on Thursday, July 7 at the Royalton Saint Lucia Hotel.