Tourism Officials from Saint Lucia participated in the fifteenth annual route development forum – 'Routes America 2022', from February 15th-17th at the Henry B. Gonzalez Convention Center in San Antonio, Texas.
The high-level conference brought together tourism executives, airlines, airports, and tourism authorities to discuss air service strategy and cost-effective route propositions. The primary intention of Saint Lucia's delegation was to continue strategically positioning the destination, strengthening, and building new partnerships with the airlines, and ensuring that connectivity is sustained.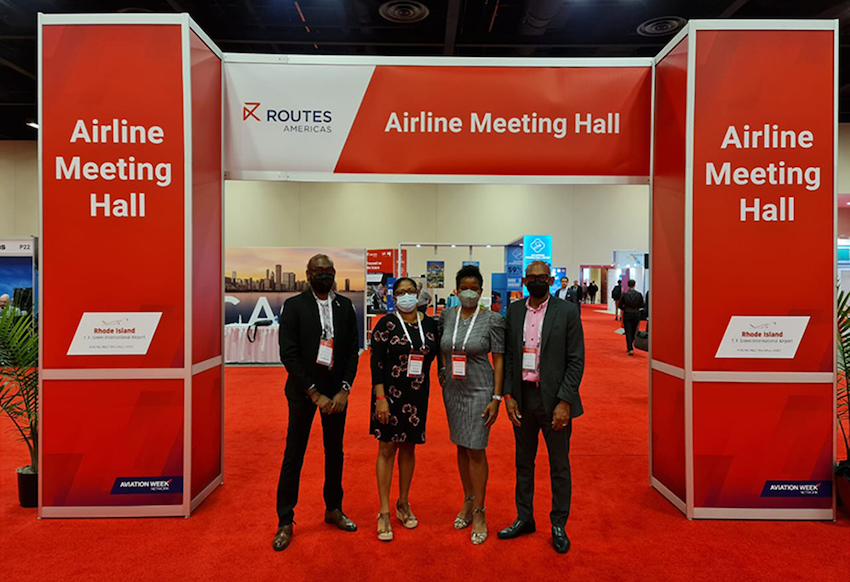 The delegation was led by the Chief Executive Officer of the Saint Lucia Tourism Authority- Lorine Charles-St. Jules. She was accompanied by the Chairman of the Authority's Airlift Committee –Paul Collymore, Research and Planning Manager -Roselieu Augustin, and Senior Manager with responsibility for Business Development and Corporate Communications at the Saint Lucia Air and Sea Ports Authority- Mr. Gasper George.
The 2022 Routes America conference served as a pivotal platform for stimulating the continued recovery of Saint Lucia's tourism product. Very topical was the Hewanorra International Airport Redevelopment Project, new and emerging international accommodation brands, and immersive offerings of the destination.
Commenting on the recently concluded conference, Charles- St. Jules remarked; "Saint Lucia is an award-winning destination and undeniably one of the Caribbean's top attractions. Our airline partners are pleased with the level of demand for the destination and new airlines are desirous of serving Saint Lucia. Because of this demand, increased frequency in service from new and existing partners is anticipated by the 2022 winter period. Additionally, we appreciate the feedback on the areas that generated interest from the airlines, as well as consumers and those that require improvement."
The forum allowed the delegation to network, share ideas, examine best practices, and establish business initiatives with twelve new and existing airline partners, based across the USA, UK, Germany, Canada, South America, and the Caribbean. Consequently, the Saint Lucia Tourism Authority looks forward to harnessing these relationships in developing a sustainable airline development strategy for the sector and by extension the local tourism industry.