DENNERY emerged champions of the Saint Lucia Football Association Under-22 Women's Football Tournament on Sunday evening at the Phillip Marcellin Grounds in Vieux Fort when they scored a 2-0 win over rivals Soufriere in the finals.
Ketina Joseph put Dennery ahead in the 2nd minute of play while Eliza Marquis' 8th minute thundering strike outside the 40-yard box from a free kick made it 2-0 to start a celebration both on and off the field.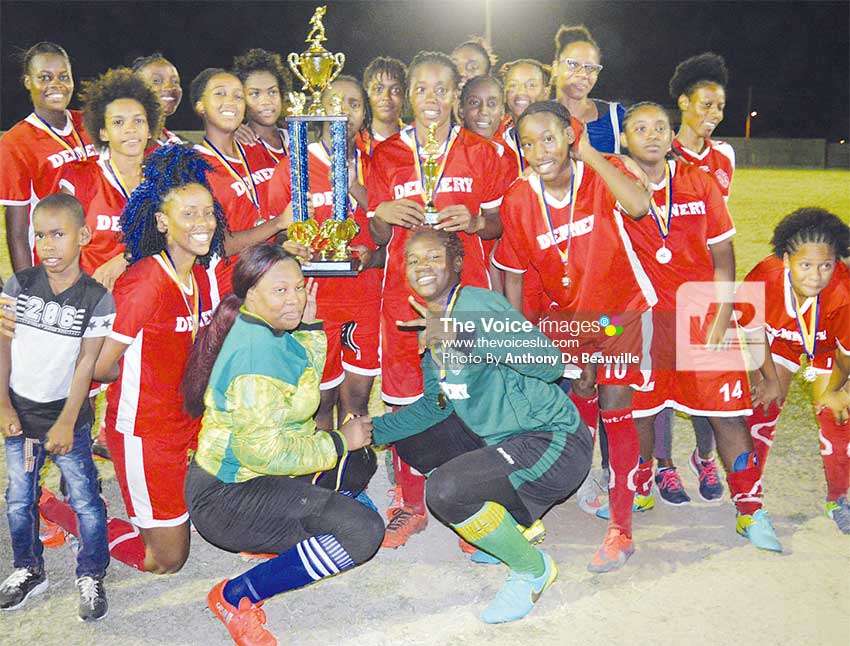 Eight minutes, later Dennery was reduced to 10 players as their captain Sylvie Willie was taken to hospital after she sustained an injury to her left hand and was replaced by Marva Herman.
Four scoring opportunities were squandered by Soufriere during the first half of play.
On the resumption, Dennery made one change, bringing in former national goalkeeper Namuly Flood in place of Shem Maxwell, who did not concede a goal throughout the tournament. Soufriere upped the tempo a few notches and in the process made several goal scoring raids on Flood.
Alban Estaphane, Head Coach of the victorious Dennery Women's Football Team said, "We had to change our approach to the game as two of our key players got injured. So we played a more defensive game than attack as much as we wanted to. The win was a good one."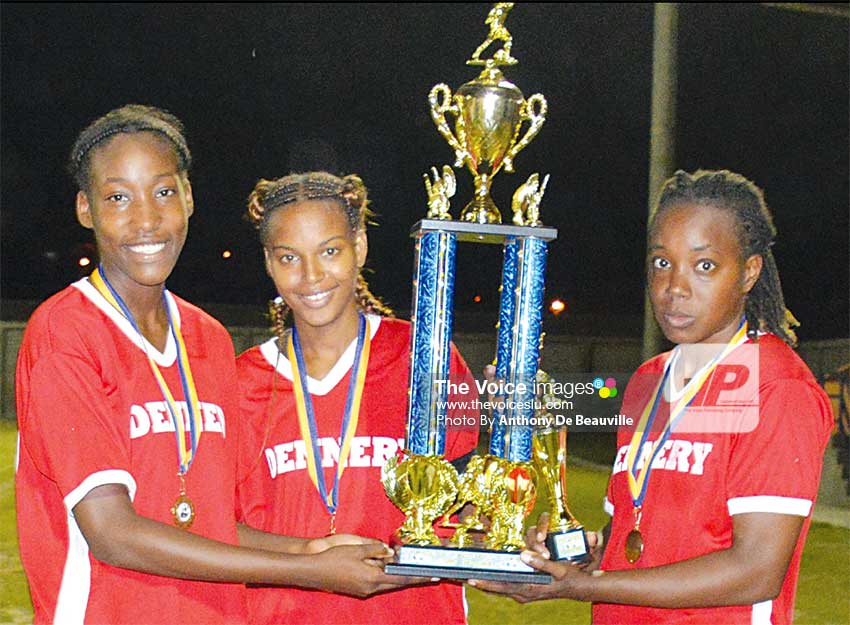 In terms of the quality of play, he said: "Soufriere came in good and, apart from Anse la Raye, they gave us a good run throughout the 90 minutes of play. They really pressed us till the end, but we were able to withstand the pressure."
For the third place playoff, Anse la Raye defeated Micoud 4-1. The half time score was 3-0 but the afternoon belonged to Chresilda Cox of Anse la Raye who scored a hat trick with goals in the 10th, 37th and 64th minutes and Kiesha Gustave in the 37th minute. Micoud's lone goal came from the boots of Ferdil Joseph in the 57th minute.
In awards presented following the finals, Eliza Marquis of Dennery was voted MVP of the finals. Dennery received the championship trophy and 18 goal medals, Soufriere the second place trophy and 18 silver medals and Anse la Raye the third place trophy and bronze medals.