AS the island's 38th anniversary of Independence nears, Saint Lucians at home and abroad are being called upon to play an even greater role in their country's development, including showing a greater spirit of patriotism.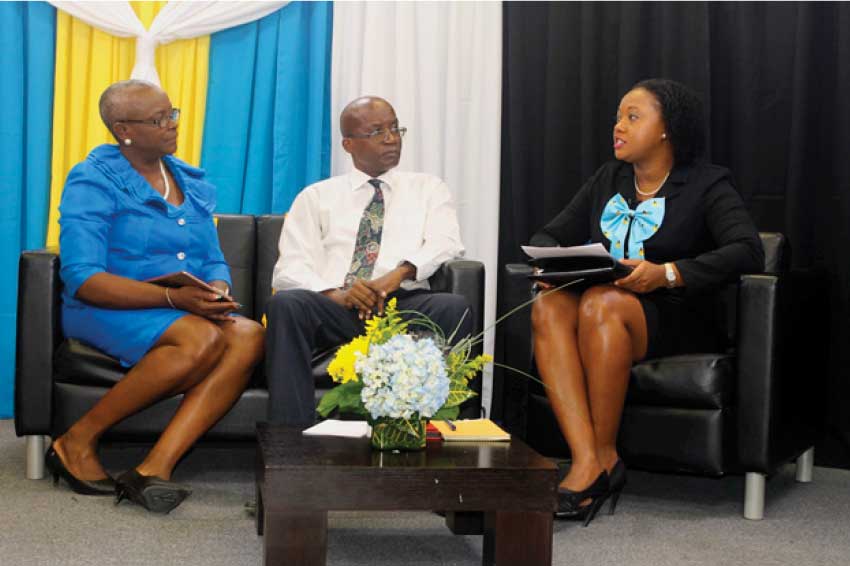 On Monday, the theme for this year's celebrations – "I Am Saint Lucia" – was unveiled at a press conference held at GIS studios where Minister for Equity, Social Justice, Empowerment, Youth Development, Sports, Culture and Local Government, Fortuna Belrose, called on citizens to unite, put differences aside and focus on what makes them "unique and hardcore Lucians".
"The things we share, the things we care about, the things we are passionate about, like striving against all odds to be the best that we can be, being leaders and not mere followers, giving of ourselves to help others, providing for our families and sharing the little that we have with our neighbours," Belrose said. "Above all, (it is about) respecting each other and holding on to the old adage, 'Doing unto others as you would have them do unto us.'"
She added: "It is these basic values of caring, loving, sharing and giving that help us define our Saint Lucianess and it is those very attributes we need to propel our country forward as they keep us in a constant, proactive state, ever conscious of our space and focused on achieving greatness."
Belrose said that while many people's lives were characterized by chaos and disharmony, "this is the time for a rethink on what being Saint Lucian truly is." She said this year's Independence celebrations afford Saint Lucians to choose from a variety of abundance of opportunities from which to engage in and learn about what it truly means to be Saint Lucians, including their history and heritage, "so you can truly evaluate where you are and rethink how you can become even more meaningfully involved in the development of your country."
Belrose urged Saint Lucians to become part of the Independence celebrations and to let their passion for their birthplace reverberate across the country as various activities are hosted. With this year marking the 50th anniversary of the Saint Lucian flag on the occasion of the island attaining statehood in 1967 and the elevation of Castries as a city, Belrose said Saint Lucians have more reasons to celebrate their history.
Independence activities run from January 28 through February 28 and cover areas such as sports, business, arts and entertainment, prayer and worship, youth, culinary arts and the investiture ceremony. However, all activities lead up to the calendar's main highlights on Independence Day (February 22) with the "Best of Saint Lucia Celebrations" that commences from 8:30 a.m. at Daren Sammy Cricket Ground.
Permanent Secretary in the Department of Culture and Local Government, Donavan Williams, said the Independence planning committee's choice of events on this year's calendar was inspired by what was done in the past and the need to introduce new and exciting events that would appeal to people who never attended the events previously. He also defended the choice of theme, which, he said, might seem simplistic, but has a deeper meaning.
"Ultimately, Saint Lucia is what we – individually and collectively – make of it," Williams said. "So when we say, 'I am Saint Lucia', if we contribute to the positives, we will have a positive Saint Lucia. If we contribute to the negatives, we will have a negative Saint Lucia. The time is ripe for us to have a serious discussion and dialogue about what we want Saint Lucia to be."
During the press conference, a previously-recorded video message to the Diaspora over the weekend by Prime Minister Allen Chastanet was shown. In that message, Chastanet said that while government was moving to create a safer and prosperous Saint Lucian, the collective support from all citizens is of paramounce important. He called on Saint Lucians to invest in Saint Lucia and become ambassadors who can advance the cause of their country.
"We need help from you. You've been doing an amazing job in the Diaspora carrying that flag and saying out loud, 'I am Saint Lucia'. You're living it every day and we need your help more than ever before. We need your help in continuing to support the efforts of all our social programmes. We need your help in investing in Saint Lucia and very soon we need your help to come back to Saint Lucia and lend us assistance to help us build a new Saint Lucia."