Says Tourism Minister Lorne Theophilus.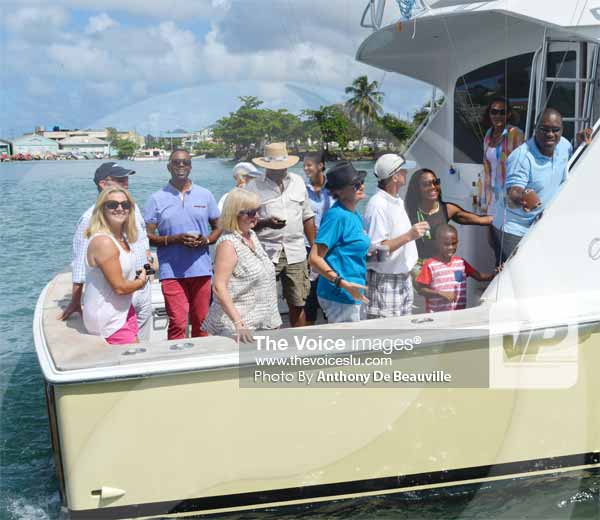 UNDER near perfect weather conditions on Sunday a little over 50 seaworthy craft of different sizes participated in the annual ARC Flotilla from the Castries Harbour to the Island Global Yachting in Rodney Bay.
Sunday's event was a symbolic one as it was to celebrate the start of the 30th Atlantic Rally for Cruisers (ARC) from Las Palmas de Gran Canaria to IGY some 2700 nautical miles.
In St. Lucia, the flotilla launch was as festive as the ARC send off as the participants made their way across the Caribbean Sea to Rodney Bay.
Speaking to members of the media present at the event Minister for Tourism Lorne Theophilus described the ARC as "a wonderful time and opportunity for the people of Saint Lucia." He said the 30 years of collaboration between Saint Lucia and the organizers of the ARC and World Crusing Plus meant that for 30 years we being able to have this collaboration which has been beneficial not just to World Crusing Plus, but also to the people of Saint Lucia".
"We've managed to forge good relations among the participants in the ARC and hopefully we will have a good convergence of persons. We have seen from the ARC relationship that has lent itself in people becoming residents of Saint Lucia, people spending time in Saint Lucia beyond just the period of the ARC so it has an economic benefit as well. It is something we wish to encourage; it's become a major calendar event on us with the island. We ask the people of Saint Lucia to continue to embrace the ARC, continue to embrace the participants of the ARC, welcome them in the true Saint Lucia spirit, let them feel welcome and hopefully this relationship between us and them can endure for many decades to come".
On the sports tourism aspect, the Minister said yachting was a sport and a lot of people had not realised the growing enthusiasm for yachting, within the destination right now He added: "It is indeed amazing and we owe it to events such as the ARC, so what we can see within Saint Lucia is the development of yachting as a sport. We have a number of young Saint Lucians who are vying for the next Olympics hoping to qualify in yachting as a sport. So we hope as a destination we can embrace yachting, embrace the benefits that it can bring to our country, not just what we see up front, but there are a number of ancillary benefits we can have, once we can register ships in Saint Lucia, develop the ancillary services that are associated with maintaining of the yachts."