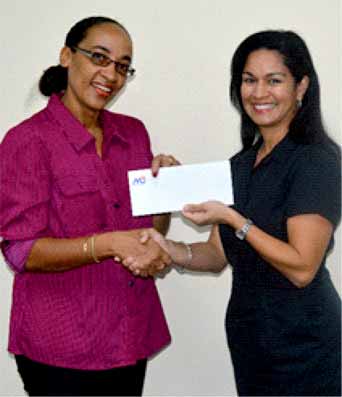 M&C Group of Companies continues to support worthy and needy causes.
The Group has recently made donations of $2,500 to In Time Education Television (IETV) and $1,000 to the St Lucia Arthritis and Lupus Association (SLALA).
The donation to IETV will support their efforts in bringing learning opportunities through television to both adults and children to all communities throughout St. Lucia.
IETV (In Time Education Television) is the community outreach division of the In Time Project. IETV programming is presently locally produced and is available to all schools on the island, providing on-line computer content of curriculum related textbooks to schools, as well as educational videos and teacher training workshops.
The donation to SLALA will go towards a training workshop for the ongoing "Viv Byen" Chronic Disease Self-Management Programme designed by a team at Stanford University. It trains leaders to teach the programme to people with rheumatic conditions as well as those with other chronic illnesses.
Ms. Fern Wilson, Marketing Coordinator, M&C Group of Companies said that "M&C Group of Companies was pleased to support this training programme which would benefit not only those in attendance but others suffering with various related ailments.