ANOTHER truly outstanding St Lucian has fallen. The island's best known artist, national cultural hero and designer of the national flag, Sir Dunstan St Omer passed away Tuesday at the age of 87.
St Omer was also a former Editor of THE VOICE. A product of the St Aloysius R.C. Boys School and St Mary's College, St Omer has left his mark in many places in St Lucia, including several Roman Catholic Churches where his huge murals adorn walls. His legacy as an artist is assured continuity through his sons, artists in their own right.
Both Government and Opposition yesterday issued statements in tribute to the man whose place in the history of St Lucia was assured when he designed the national flag when St Lucia became a self-governing Associated State with Britain in1967. The St Omer flag was retained intact when St Lucia became fully independent 12 years later.
Prime Minister Kenny Anthony said of St Omer yesterday: "His passing creates a great chasm in our collective heart and soul, particularly because we know how much he loved and served his island home, and how he believed in celebrating everything that is beautifully Saint Lucian."
Opposition Leader Dr. Gale Rigobert said: "Sir Dunstan's contribution to Saint Lucia's nationalism is forever embodied in the blue, yellow, white and black of the island's most distinctive symbol – our national flag, which he created. His contribution to Saint Lucia's national consciousness is also without question….. Sir Dunstan loved Saint Lucia and was proud to be Saint Lucian. His passing creates an enormous void in the heart of our country that will not soon be filled."
Sir Dunstan copped several other accolades during his long life. He was awarded a Papal Medal by the Catholic Church and the St Lucia Cross by the St Lucia government on the occasion of the island's 25th Anniversary. In 2007 the Folk Research Centre declared him a National Cultural Hero. In 2009 he received an honorary Doctor of Letters degree from the University of the West Indies, and in 2010 the Knight Commander of the Order of St Michael and St George (KCMG) was conferred on him in the New Year's Honours of Queen Elizabeth II.
As a young artist Sir Dunstan took instructions from the legendary Harold Simmons along with life-long friend and Nobel Laureate Derek Walcott. In 1946 St. Omer left St Lucia for Curacao to work with Dutch Oil; there he was influenced by Greek painter Pandelis. When he returned to St Lucia in 1949 it was to various teaching jobs, including a stint at his alma mater. He received a scholarship to go to Puerto Rico where he studied art for a year and returned home to work with mentor Simmons as sub-editor at THE VOICE, eventually replacing him from 1959-1962. Sir Dunstan worked with the Ministry of Education as an art specialist and remained there until he retired in 2000.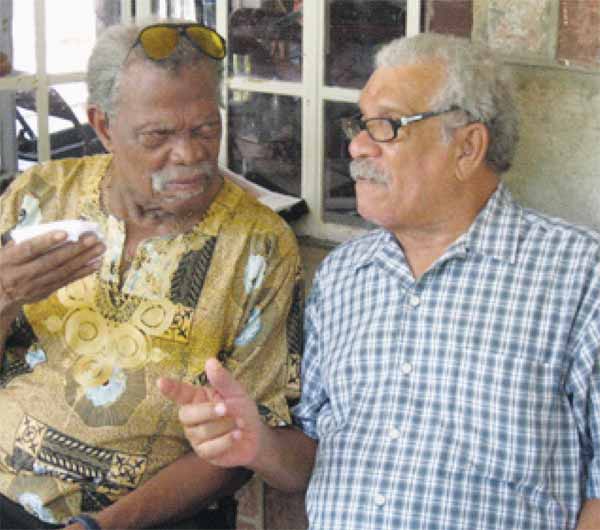 In a wide-ranging interview with VOICE journalist Stan Bishop published in THE VOICE Independence Day issue in February last, Sir Dunstan spoke about what influenced his design of the national flag. He replied: "Even before the competition, the design of the flag was in my mind already. Not that I had thought that I would be designing a flag. But I was already thinking about what I would want for it. In fact, I submitted two flags. It was the time of Black awareness, so I had a green flag with a black eagle on it. That was too radical for them. Some of my best friends told me that was too much, even though they became as radical as I was afterwards. So the authorities chose to go with the milder flag. With things like these, you cannot simply say that you achieved them; it's just things that happen to you"
As to what kept him motivated as a painter all these years, he said: "In life, we have to make certain choices – live or die. And if you're selfish, your ass will get burst. In order to survive, you have to have a generous purpose, somehow. For fellas like Derek and I when we were much younger, we were so fortunate that we had all the materials to work with in the direction we were going. We were emerging from colonialism and we had a nation to realize, so all the materials were in that situation. So we didn't have to look for ideas because they were all there. But we got through that part very well and, fortunately, we had Harry (Simmons) there to tell us to look at ourselves and not Europe. So he really started the ball rolling. He was the one who started to paint our canoes and our women in their madras. I had never seen Black people in paintings before. I was also able to merge my patriotism with my religion."