St. Jude Hospital is the recipient of an ambulance from Caribbean North Charities Foundation, a donor organization based in Toronto, Canada.
The ambulance was officially handed over to the management of St. Jude Hospital during a ceremony last Wednesday at the George Odlum Stadium.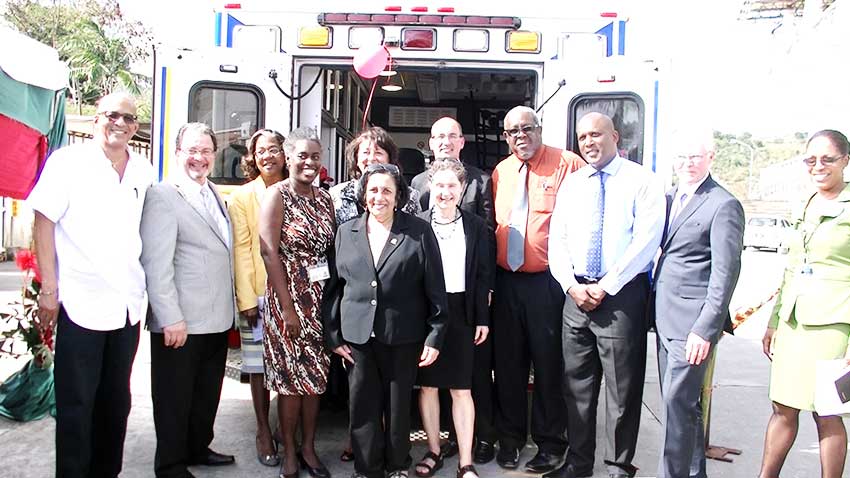 The decommissioned 2011 Ford E350 ambulance was presented to Caribbean North Charities Foundation by The York Regional Municipality Council in Ontario. It comes with a new portable Heartstart AED Philips Defibrillator and a used Ferno stretcher, fastener and stretcher bar with installed tracks.
St. Jude Hospital had been actively sourcing new ambulances to support the quality of healthcare delivery in the south of the island.
Chairman Dr. Ulric Mondesir expressed the hospital's profound appreciation for the donation.
"I cannot begin to tell you how happy I am this afternoon, neither can I begin to tell you the deep joy that comes to my heart to stand here on behalf of the patients and staff of St. Jude Hospital and the government of St Lucia to embrace this great donation of a lifesaving ambulance to St Jude Hospital," Dr.Mondesir said.
He added: "To many of us, this might be a small gift but to the sick man it is the greatest gift and the greatest thing to happen."
St. Jude Hospital began its partnership with Caribbean North Charities Foundation two years ago following an introduction by the Consulate General of Saint Lucia in Toronto.
Since then, the Foundation has provided nursing education to over 40 St. Jude Hospital nurses, Continuing Medical Education (CME) courses to medical staff, donated over 50 computers to the institution and provided more than 1400 backpacks to be distributed to the community.
In her address to the ceremony, Deputy Chairperson of Caribbean North Charities Foundation, Pamela Harakh, affirmed her organization's commitment to continue assisting St. Jude Hospital.
"Our initial site visit confirmed that this is an institution that is ready to move to a permanent home and is going to work towards upgrading itself in most areas and we have committed to continuing our partnership to help this process," she said.
The handover ceremony was also attended by the Minister of Health, Mary Isaac, Deputy Mayor and Regional Councilor of the Town of Richmond Hill in Ontario, Vito Spatafora, representatives from Caribbean North Charities Foundation, members of the St. Jude Hospital Board of Directors, as well as the hospital's management and staff.
This ambulance comes on the heels of a grant provided to St. Jude Hospital by the Government of Japan in February for the purchase of a new ACLS ambulance.