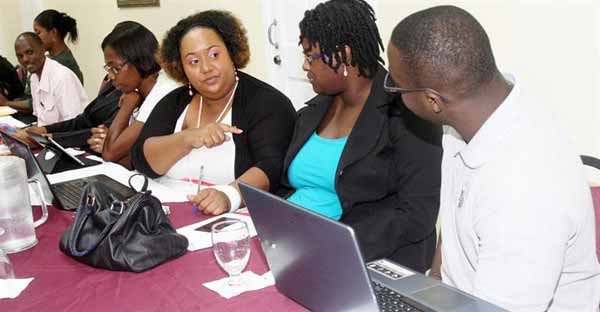 THE Ministry of Social Transformation, Local Government and Community Empowerment held a major consultation for all staff of the core ministry and its allied agencies to formalize the undertaking of a strategic plan to guide national social development.
Consultant to the Ministry of Social Transformation, Yves Renard, said the consultation is another step toward the creation of the plan.
"This is a process that began in April of this year. We have had a series of small meetings, focus group sessions and interviews. What we are doing now is to discuss the key issues to see what needs to be added in the creation of a plan. It also involves the development of a programme of work on the basis of that plan," Renard explained.
For many years, the development of a strategic plan has been in discussion. The assertion from Permanent Secretary Juliana Alfred is that a framework has now been developed with the intention to launch the plan in 2016. Alfred said the plan is being tied to global Sustainable Development Goals as the ministry aligns its role with Saint Lucia's national commitments and advancement.
Social Transformation and Welfare Officer for Canaries, Soufriere and Choiseul, DarnallyEstava, said: "I think it is very pertinent, well-coordinated and very timely, because we have a ministry and a government that is always changing and it is nice to know that plans are being put in place for continuity, and for the safety and development of our society. It is comforting to know that when we have gone, when the ministry is changed and when the political arena changes, that the policies and plans we put in place today will achieve the long term goals we have as a nation."
The feedback and participation of staff in the exercise was stimulating. This, the Permanent Secretary said, is an indication of genuine commitment and interest in the work of social protection to advance national development