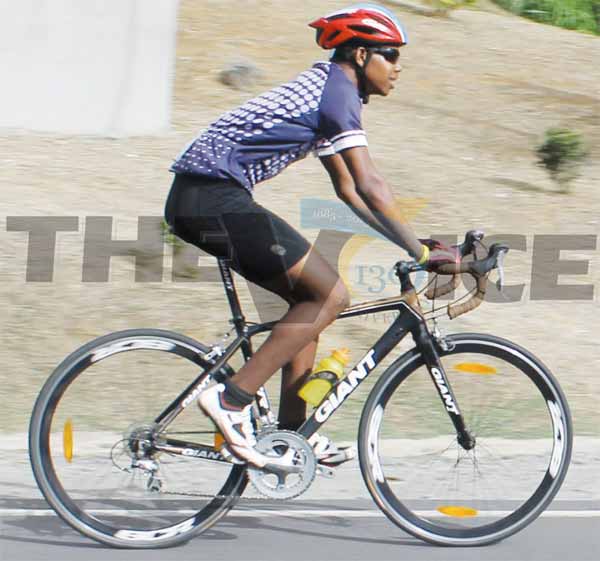 VETERAN cyclist Winston Williams emerged victorious ashe edged out national road race champion Fidel Esnard to take a well deserved victory filled with aggressive riding in the 87 Kilometre Road Race organized by the St.Lucia Cycling Association last on Sunday 19.
According to SLCA President Cyril Mangal the 12.5 Vieux Fort / La Resource circuit this time around was ridden in the anti-clockwise direction which included some strong head and cross winds that made life difficult for some of the riders.
At the 2km mark there was a break as the winds played a major role in the split as some of the younger riders lack of experience and attention got caught out of the lead pack. The lead pack was quickly established with Fidel Esnard Project Breakaway), Winston Williams (Excellers), Antonius Jn Baptiste(Dennery), Elvis Joseph (Dennery), Eustace Dookie (unattached), Pius Alphonse (Dennery) along with Juniors Dave Charlery (Mon Repos) Romueous Noel (Mon Repos) and Calixte Williams ( Excellers). In the process Jn Baptiste tried to break away, but this was short-lived as Esnard and the others would not allow it.
Going into the 30km mark Calixte Williams was being dropped off the back as his father Winston Williams fellawayto try to bring him back. It was too much for Calixte and Winston had to close a 500 metre gap up front to remain in contention. At about the 45km Dave Charlery who was sitting comfortably in the main pack suddenly started complaining of feeling dizzy. It was agreed that it was not wise for him to continue and he abandoned the race at this point.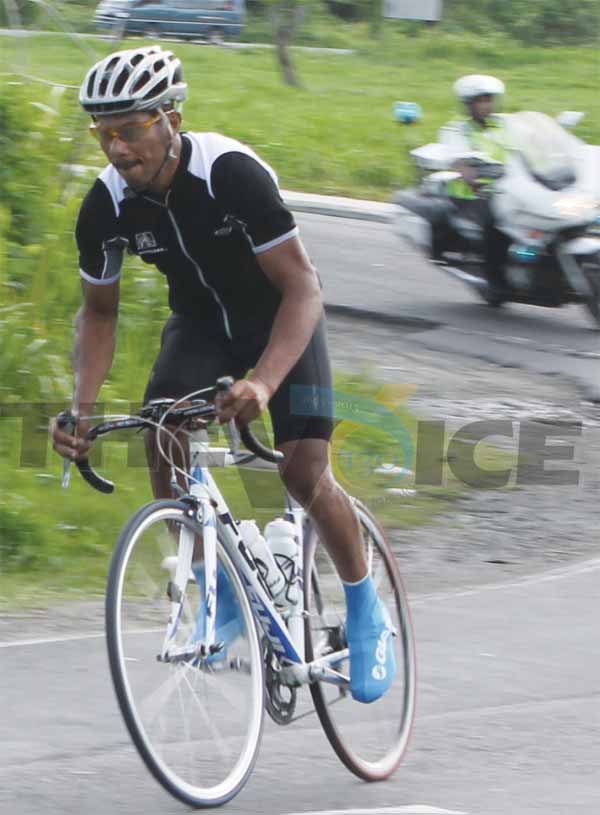 By the 50km mark the lead pack was broken further as Elvis Joseph, Antonius Jn Baptiste, Pius Alphonse and Romueous Noel were dropped off the back as Esnard, Williams and Dookie kept hammering on upfront. Joseph, Alphonse, Jn Baptiste and Noel tried chasing back to the front. However, the chase was disorganized with Noel getting away alone from the other three.
Meanwhile at the back the small pack comprising Juveniles Kluivert Mitchel and Jesse Mentor along with Junior TerrianoFelicien had closed in on Calixte Williams with Mentor and Mitchel eventually riding away from the others leaving Felicien and Calixte in their wake.
Up front there were several attacks by Williams which were being effectively covered by Esnard in a show of strength whilst Dookie was taking a free ride off Esnard to close the gap, doing little in the lead group with Williams and Esnard doing the bulk of the work.
With the finish line in the distance Winston Williams ensured that he was not about to settle for another second place as he powered his way to victory over Esnard in a time of 2 hours 37 minutes 53.20 seconds. There was no more shelter for Dookie who had to settle for 3rd place in a time of 2 hours 37 minutes 56.63 seconds.
Williams had placed 2nd three times and 3rd once in the previous four races held earlier this year. Elvis Joseph came in 4th place in 2 hours 45 minutes 08.78 seconds, Pius Alphonse 5th in 2 hours 51minutes 22.09 seconds to round up the top five.
In the junior category Romueous Noel continued his good run of form this year and crossed the finish line in 1st place, but 6th overall in a time of 2 hours 52 minutes 27.13 seconds. The 1st Juvenile to finish was Kluivert Mitchel in 2 hours 52 minutes 49.80 seconds, while Alicia Peter of Mon Repos was the only Female Juvenile to complete 50km in 2 hours 12 minutes 49 seconds. The only Under – 15 rider to complete the Boys 50 km was HillanAubert of Excellers.